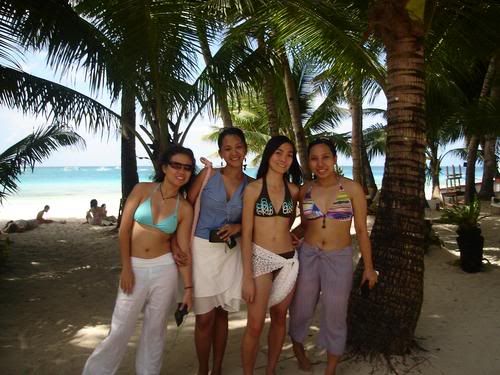 Im missing everything about Boracay now. Three days and two nights aren't enough to spend on a fine beach --atleast not for me. How I wish I could stay for 2 weeks to a month.
On the lighter side though, the trip is just what I need to escape the work jitters. I'm as eager as my students for school closing day to come and start summer beach bumming. What else can I say, I just love sun, sand, beach and skim...(ok, beachbum hunting too)
Beach bum hunting. Something about the local guy-skimmer-henna tattoo artist - reggae band guy that makes me weak --kilig weak. But it ends there. There are no future plans attached --just the present.
I mostly bummed solo during my stay on Bora. I like it that way than go girl-talk *shivers*. I basked on the sun like 'daing'. But unlike the 'daing'; mine was self-imposed, the daing was deprived of the ocean and executed to death to feed mankind *nyak, corny*.
Since I kept a hurried vacation, I promised myself that I'll do the most out of the trip. So I mingled with the locals. I just find it much interesting to experience the trip the local way. Since as I have mentioned previously --i hate girl talk.
I found skimmers along shore and I stalked one of them. I really must be enchanted because I stalked him from Station 1 upto the long stretch of Station 3 ( I AM NOT KIDDING) . He skimmed from the first station to the last. If he can skim that far -- I can stalk that far too. AHEM!
My housemates aka college friends are wondering where I am (while stalking) and what was I doing. I didn't lie.. I told them I have gone --hunting. They left the house to meet me somewhere on Station 2. I found another interesting thing to do --beach football with the locals ofcourse (well, mostly at least).
I didn't hesitate to pass the ball back to William (local guy) and chatted with him while juggling and passing balls. He offered skimming lessons but I couldn't pass up playing beach football 3 on 3. I didn't mind if I was the only girl. I played mostly 'last man' but I scored a goal too. So fun.
I got acquainted with several foreigners of different nationalities --Koreans, Bulgarianss, Norwegians, Australians and Americans.